COLLECTIBLE VINTAGE PRINTED TABLECLOTHS
Vera Prints Tulips and Daffodils MWT Tablecloth
Click on any image/thumbnail to enlarge
A colorful and blooming design by Vera Neumann (Vera Prints). This tablecloth is mint with original paper tag. Meaures 52 x 52. 100% cotten. .....Item#5019 ....PRICE:SOLD


---
VINTAGE FALLANI COHN - MWT - TABLECLOTH TITLED "BATIK"
Click on any image/thumbnail to enlarge
Retro Beautiful! Dark Olive Color - very FRENCH PROVINICAL. All over design floral design, twine with lacy print embellishment. CONDITION: Mint with Original Tags FABRIC CONTENT: Belgian Linen SIZE: 48"x48" DYE CONDITION: Rich and Beautiful .....Item# T4001 ....PRICE:$65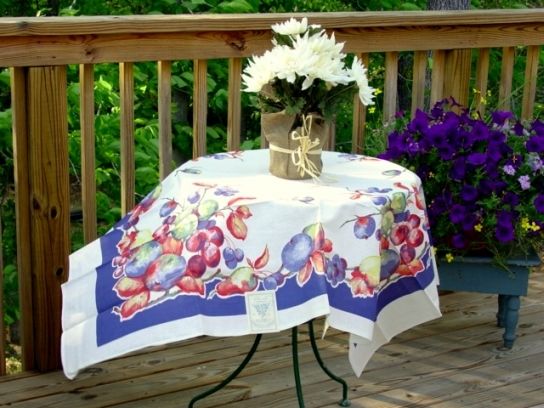 1940's Hart to Find MWT Blue Fruit Vintage Tablecloth
Click any image/thumbnail to enlarge
Fabulous 1940's MWT! This is a rare tablecloth to find and more so with any paper tags attached. Tag reads: Fruit Garden Prints (could have been associated with the Springmaid Company). To add to the nostalgia, this beauty has the name of the original owner and date on the tag. Very very nice, luscious fruit design and as mint as they come. No storage stains of any kind. Hem markings visible on one side (pictured).CONDITION: Mint with Original Tag FABRIC CONTENT: Sheeting Cotton DYE CONDITION: Gorgeous SIZE: 48"x48" ........Item# T4002 .....PRICE:$90 SOLD


MINT LEACOCK IRIS VINTAGE TABLECLOTH
Click on any image/thumbnail to enlarge
The Leacock Company offers some of the best designs in vintage printed tablecloths and this one is no exception. Spectacular Iris design in Leacock's Home and Garden collection of colors. Love It! The Best! It lends itself to an elegant setting or cottage decor easily. Nice weight linen with the original paper label still attached. CONDITION: Mint. No stains at all. FABRIC: Midweight linen DYE CONDITION: Bright and Beautiful SIZE: 52"X52" .... ITEM# T4003 ....PRICE:SOLD
Tea Towels still available in this pattern.
Measurements: 16 1/2W by 29"L
Quantity 2
$22.50 ea.

MWT STEVENS SIMTEX RED ROSES and BUDS
Click on any image/thumbnail to enlarge
A 1960's Mint with Tags Vintage Tablecloth. Stunningly beautiful Red Roses Garland design on an elegant ivory/tan background. Extra pretty details such as the textured cotton/rayon blend and white flowers/polka dot accents throughout the background. Pattern name is Rose Frost. CONDITION: Excellent Mint w Tags FABRIC: 62% Cotton, 38%Rayon DYE CONDITION: Superb SIZE: 52"X52" ......Item# T4004 ....PRICE:$65


FALLANI COHN VINTAG TABLECLOTH Floral Fantasy
.........................
Click on any image/thumbnail to enlarge
Excellent condition with original tags. Pansies, carnations, and daisies abound in this bombastic pattern by Fallani Cohn named FLORAL FANTASY. All-over design in predominant blues and greens. Two small and extremely light storage marks - almost impossible to capture in photograph but will try my best upon request to provide. CONDITION:Excellent w Tags FABRIC: Belgian Linen SIZE: 52"X52" DYE CONDITION: Excellent! Colorful! .....Item# T4005 ....PRICE:$85

LEACOCK STRAWBERRY VINTAGE TABLECLOTH
Click on any image/thumbnail to enlarge
Mint with Tags Vintage Tablecloth by Leacock. An most Elegant Design of floating butterflies amist sweet, delicious strawberry plants. Appropriately named...Strawberries. CONDITION:Excellent Mint w Tags FABRIC: Linen SIZE: 52" by 52" DYE CONDITION: Lovely! Perfect! ..... Item#T4006 ....PRICE:SOLD